So I have mentioned my fabulous, awesome
Silhouette
cutting machine before.
And after almost a year with it – I am still absolutely in love with it. They recently released a new software package to use with it – makes it 100x's easier to use when creating my own quotes and manipulating images. I have made
A LOT
of shelf blocks with quotes on them for some upcoming craft fairs – those pictures will be coming at a later date.
Last week I was introduced to a new website –
My Vinyl Designer
- While I have access to the Silhouette store and a ton of images and phrases one can always have more…right???
What I love about My Vinyl Designer is you can buy images in a variety of formats – so if you have a Circuit or a Silhouette you can buy the file that is right for your machine. My favorite part is the fact that this site sells individual images as well as packages of designs. Also once you buy the image it is yours for immediate download + you can use it to create wonderful things to sell…that is right you have access to use the images and sell those items…something that is not available when I use Silhouette store images.
So I decided to try out a design and used TX and PWG as guinea Pigs…
I saw
Alphabet 6
and loved it. So I bought it…(at 25% off too…use the code holidays) and what did I do with it…
Well first we went to the Big Box craft store and bought some 8x8 canvas and some Acrylic Craft paint…We used Apple Barrel Paints in the colors of Kiwi Green, Lagoon Blue and Hot Pink.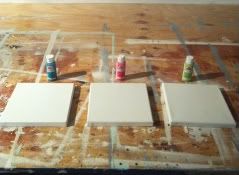 We painted them up – it took about 4 coats for a nice solid look – although I did like the wash through look of only 1 or 2 coats on the canvas as well…
Then I let the girls (sort of) pick their vinyl colors –
TW picked Dark Grey for her letter and white for her name – she also picked the font she wanted for her name (Fontdinersparkly)
PWG started to pick some weird colors of vinyl that really didn't go and I was able to sway her to a Rose Red for the letter and a Chocolate Brown for her name and was able to sway her for the font (Merced) – because I loved the way the "N' swooped.
I adhered the vinyl to the canvas – this can be a bit tricky since the canvas isn't fully smooth – I have found if I apply pressure the underside of the canvas as I rub it works better – I still have some issue but if you go slow it should be fine.
We finished it off with 2 thin layers of Matte Modge Podge to seal the vinyl to the canvas…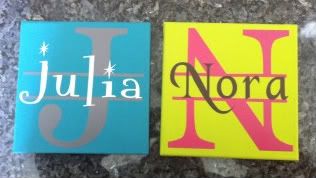 Hope you like… I haven't yet decided what I am going to do with my Hot Pink painted canvas...but I envision using this alphabet A LOT...This would make a great new baby gift...or a wedding gift - put the Brides and Grooms name in middle...or use multiple canvas frames to spell out a name and use an adjective to describe the person in the middle.