First off
– I wonder if we can get Congress to pass some sort of bill standardizing Tooth Fairy money. The other day I was grilled by TW why she only got $1 for her first tooth and Matthew got $5 for his first tooth…umm I didn't know really what to say so I told her maybe the Tooth Fairy had a good night at the slots before Matthews tooth fell out…
I propose $1 for the first tooth and .25 for each additional tooth…
While we are at it maybe add a rider so we are all on the same page when it comes to the Big Guy…you know Santa…1 or 2 gifts per kid – rest comes from family and friends…
Secondly
– after volunteering at my daughters Field Day I am once again glad (for now) that I only have girls…I was in charge of "Dancing with the Stars" (Hollywood theme this year) and the boys…oh the boys…running, jumping over each other, attempting to break dance in the grass. I did learn 2 things – the Robot seems to be making a comeback…at least in the 8 and under set and apparently "Who Let the Dogs Out" is about fugly girls at a party? Listen to the lyrics…I had to about 15 times because that is all the kids wanted to hear…I tried to fast forward to "Cotton Eyed Joe" but that song made me nostalgic for a beer, a smoke filled bar and the year 1994.
Third
– I made more purses…want to see them…well it is a rhetorical question because you are going to see them anyway. I also made something else but I can't show that until the person actually gets the item :) The top three are ones I was commissioned to do...the bottom ones are the ones my daughters teachers are getting for their year end gifty.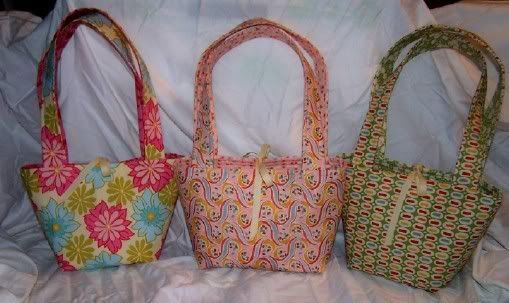 I had to put my sewing machine away so I wouldn't be tempted to make more stuff – I have a very busy week that involves sitting through the 1st grade play (TWICE – uggg), kiddie Dr. Appointments, hair appointments, baking a strawberry-rhubarb pie and packing the girls up for their 36 hour camping adventure this coming weekend
Forth
–
KITCHEN ON!!!!!!
– we met with our contractor again on Friday and hammered out a few more things and the ball is starting to roll…TC and I are going to start looking at a bunch of little things and hopefully we can make some decisions without too much bloodshed on either of our parts– Granite, sink , faucets, tile, cabinet style, cabinet color, etc…..
Fifth
– I got a
ME ME ME
day…I went to an all day stamp fest (another of my many hobbies) on Saturday and had a great time making a bunch of cards…I even won a great door prize –
THESE
stamp sets - Sushi by Stampendous
Aren't they stinkin' adorable...now to find time to ink them up and make a card...and if anyone can give me an idea for using the fish in the washing machine - that one has me scratching my head a bit - they were generously donated by
Eclectic Paperie
That's all I got for now folks - over and out